As we come up to the end of the term….you can hear the light hearted ribbing around the staff room….Blog posts are due…have you done the blog post….what's your blog post about this term?  I also specifically get the "You've probably done your blog already right…?"
Well, this month, I haven't. Although traditionally, I've been the one at the school that has the reputation of over-blogging. Mostly, because I get really excited about what I've been doing. This month, as I think about what I've been doing as the run down to the holidays (and running down to some time in the Lightning ridge mineral baths), that although I've been enjoying and feel very satisfied in the work that I've been doing this month, I realise very clearly that not many people would find what I've been doing in any way exciting. Obviously, as we run down to the end of term 2, we start to look at that process that strikes fear into the hearts of teachers, parents and students….reporting.
So not only do we do reports very differently at St Luke's, we also decided to start using a new reporting program. Of course. Because we don't like to challenge ourselves enough. The work that was done last year in terms reporting process (not by me) was brilliant. The focus on our 6 pillars as the priority of the reporting process really reflects the priorities of our classrooms. Each student has six pages of reporting on our pillars….Give Witness, Relate, Manage Self, Think Critically and Creatively, Communicate and Collaborate and Be digitally literate. Students are given detailed feedback around their achievement against the pillars, and strengths selected from the work that they do across KLAs.
A new reporting program, aside from the major amount of work that this takes, also gives us the opportunity to be reflective around things that we report on. This year, the following changes have been made to our reports, which may seem like minor things, but have significant effect overall. This year, students will be rated on a four point, rather than a three point scale on their achievement of the pillars. This gives students, who realistically should be working towards for the majority of the stage, to see steps in achievement over the two years. By placing a bigger scale, where we not only have working towards, working at and working beyond, but also include "emerging towards", students have a greater ability to demonstrate improvement across a stage.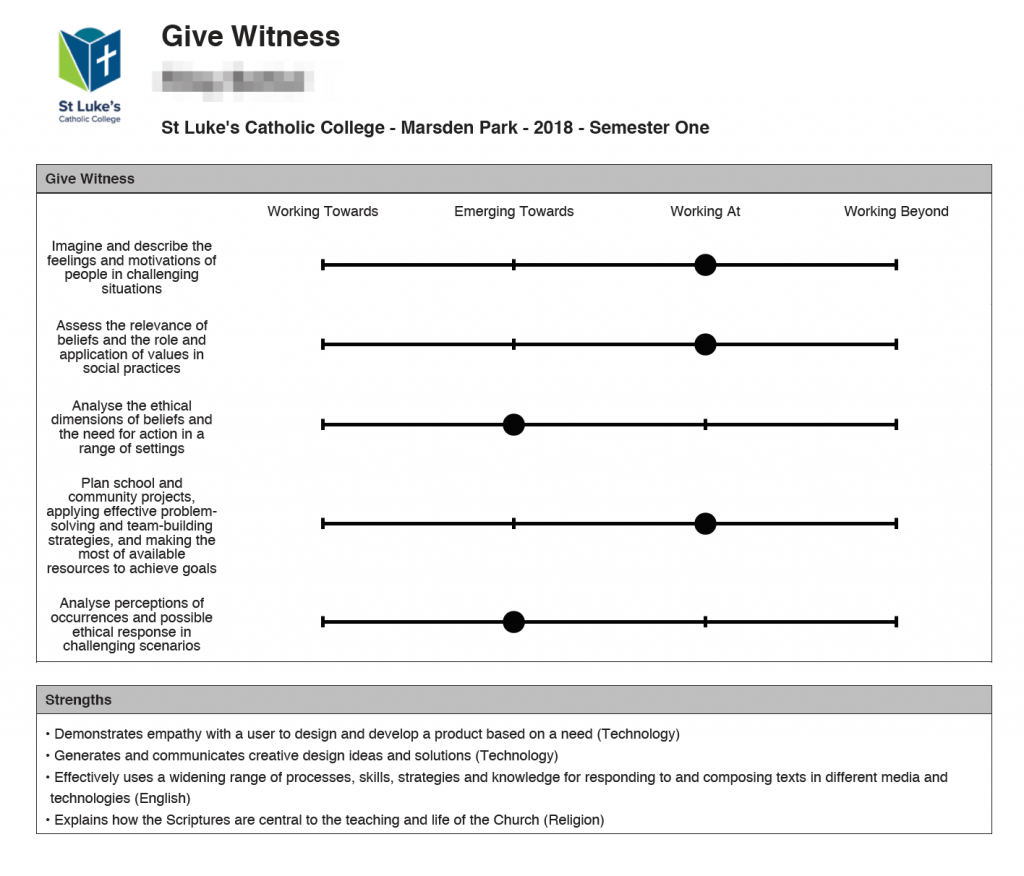 Student strengths are now based around outcomes, giving a greater link between the work done in the classroom, as teachers and students work together to develop social and enterprise skills while  engaging in core curriculum.
Within reporting of our core curriculum, students are now reported on a five point scale, rather than from A to E. The requirement to report on an A to E scale this year changed to the requirement to report on a five point scale, and we were quick to jump to this to create a scale that we think is more descriptive of student learning, and a greater reflection of the common grade scale than an A to E specification.
Working Deeply
Working Beyond
Working at
Emerging towards
Working towards
In addition, a change to the layout of the report reflects the ability for a student to move up the scale from working towards to working beyond. This progression from left to right reflects how our assessment rubrics are set up to indicate a progression across the stage, from something simple like the arrow indicating movement towards the top end of the common grade scale, where students transfer learning to new situations.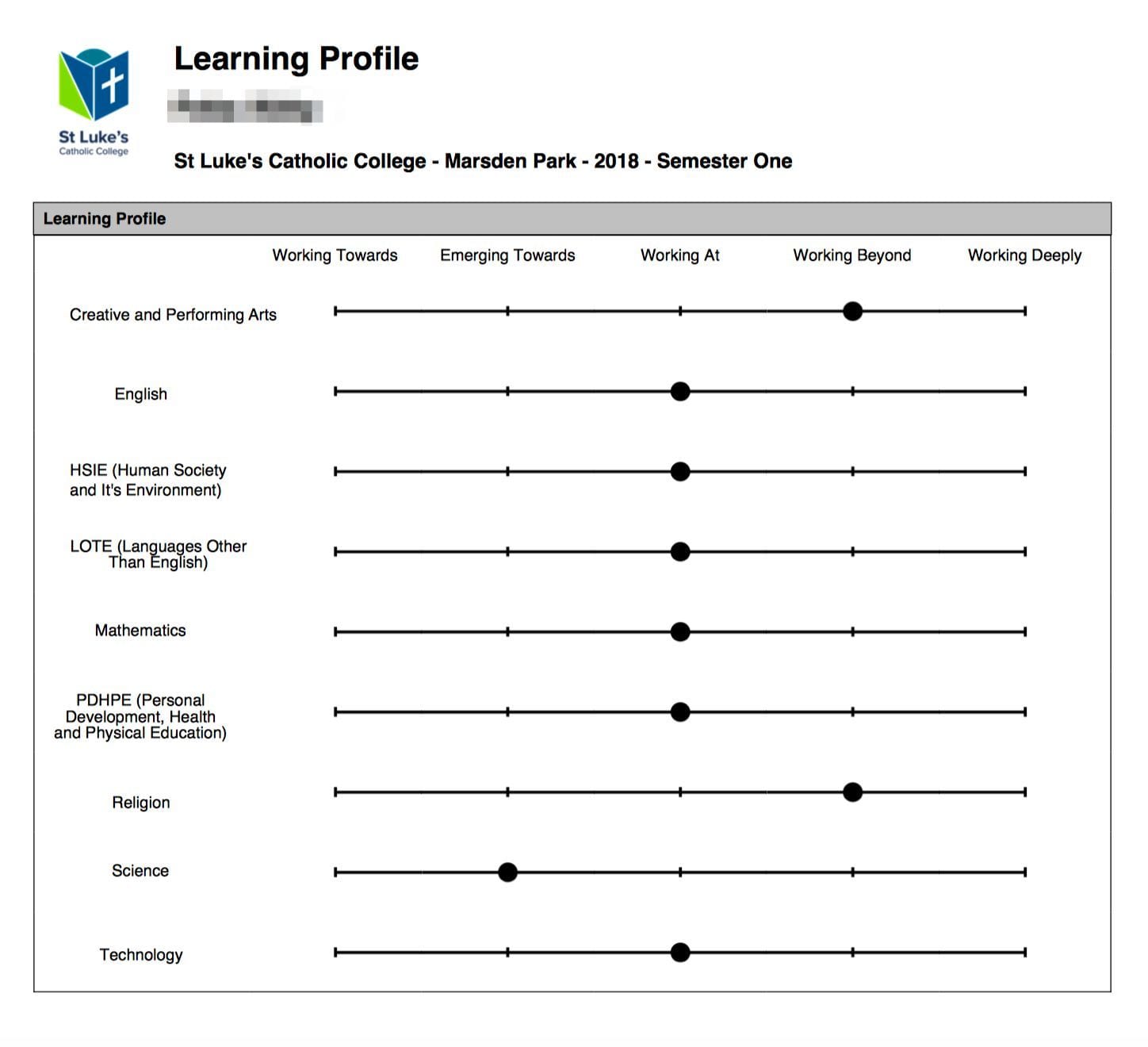 Finally, an exciting development from the technology teacher….alphabetised subjects. Our reporting specialist from CEDP tells us that she has seen this before, but I've never seen it in a subject report in all my years of teaching (and I am a bit of a report layout fan). Many years ago, I heard the list of KLAs referred to as the "top four" and the "bottom four" with English, Maths, Science, and HSIE being the general level of importance given to subjects, with the "bottom four" (two of which are my subjects) generally listed in whatever order the principal's priorities are.
With a focus at St Lukes on "nurturing faith-filled, curious children to become creative contributors and innovative problem solvers for a changing world" some students will naturally see some subjects as being important, while others are not to them…and this mix of subjects, interests and strengths are as individual to each student as their personalities and learning preferences. So…why do schools create an environment where one subject is more important than the others? These small things….order of subjects in lists, allocation of the little bits of extra time, avoidance of disrupting certain subjects over others, timetabling of certain subjects as "fill ins"….these things all lead to a long term impression of priority and importance of some subjects over others. This then can lead to an impression for students that it's more important to succeed at one subject over another. Why do we not value student interest and choice over a historical and preset order of subjects? Are we killing our student curiosity by implying that subjects are really interested and engaged around are not given priority or importance. Maybe this is just my rant since the two subjects that I'm trained to teach are part of the "bottom four". However, when you see a year 12 student that is totally engaged and interested in their major project, when they are getting high band 6's in that subject…who are we to tell him that that subject isn't important? That it doesn't deserve as much time as maths or english, or that it's on the bottom of a report. 
A friend sent me a quote from a lecture the other day about how sometimes leaders were not able to be as hands on with teaching and learning as they like because of the requirements of things like reporting. This blog post was meant to be focused on that quote. After spending a late night last week editing report comments when the comment bank wasn't correct (approximately 2000 errors to correct manually), a weekend doing final proofs and chasing unexplained attendance, it's hard to see that you're having an effect on teaching and learning. However, after seeing printed finished reports (well, PDF versions….because we're digital) I'm really proud of the work that we've done with them…and these small changes can have lasting effects on teaching and learning.